'Care Watch cares for you

and watches over you'

Multifunctional alarm button

Care Watch is an alarm and monitoring system that cares for you and watches over you. Eye catcher and essential part of the system is a multifunctional alarm button that looks like a watch (The Care Watch). In case of emergency it builds up a live speech connection with a professional aid worker. Beside the alarm function, the watch shows time and date, and can be programmed with medicine alerts or other reminders.

The watch measures temperature, heartbeat and is equipped with drop down detection. The watch has very low current consumption, is water proof and skin friendly. You can therefore wear it continuously, even in the shower. Care Watch is the smart watch for the independent and self sufficient senior!
More than a watch,
a complete system, brought to you as full service
Care Watch is part of a high secure, private, wireless network, that connects sensors and actors to a cloud based alarm and monitoring systems. The system is 24/7 remotely connected to a professional aid worker. In case of emergency , Care Watch builds up a live speech connection, directly from the watch.
Anytime, anywhere
Care Watch can be used in multiple settings. At home, outside, in a multi user setting, even as a professional nurse call and patient monitoring system.
A safe and liveable countryside,
also for elderly
Populations in rural areas are ageing and declining. We ourselves are located on the countryside. From our headquarters in the Northern part of The Netherlands, we literally see the change. In order to keep villages and small communities safe and liveable, something needs to happen. We are convinced that the Care Watch concept can help a little to accomplish that.
Take a look at the projects that we are setting up!
Work in progress

Beginning 2014 we announced the development of Care Watch. Our press release was widely picked up. News papers gave attention to it, we were quoted on news sites and interviewd on the radio. We were even invited for a TED Talk by the Dutch Embassy in Dublin. A lot has happened since then...

Pre-register!

You can already pre-register for your own Care Watch! As soon as Care Watch gets available, you will be the first to be noticed.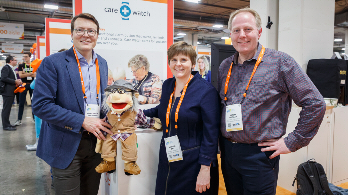 Care Watch goes CES!

Care Watch was selected to join a special start up delegation to the largest electronics show in the world.
In top 10 Accenture Innovation Awards!

Care Watch ended up in the top 10 out of 150 concepts.
TED talk in Dublin

The Dutch Embassy in Dublin invited us to speak about Care Watch at the Tedx Healthy Ageing Event.