Cloud alarm platform with maintenance app
Care Watch is an alarm monitoring system with a virtual alarm platform in the cloud for managing settings, handling calls, and sharing information. The CAP is accessible via a dedicated maintenance app, for both pc/laptop and mobile devices.
How it works
Care Watch communicates with the cloud alarm platform about its status. It sends regular messages with sensor data, battery status, location etc. The virtual alarm system is managed through a dedicated application. Through the app you can manage settings for the sensors, reminders and authority levels for users. The app also makes it possible to share information and handle calls (nurse call mode).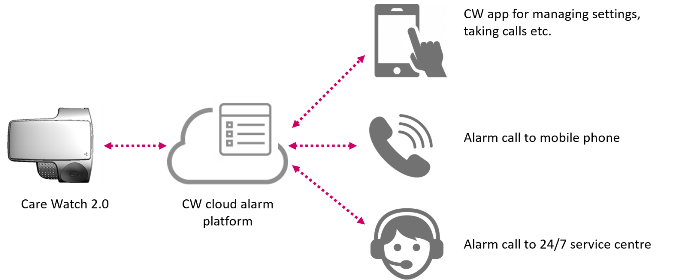 Activate sensors and set alarm boudaries
Care Watch houses different sensors i.e. heartrate, body temperature and movement. Through the app sensors can be activated or deactivated. Alarm boundaries can be set for different measurement levels. In case of exceeding pre set boundaries, the watch triggers an alarm automatically.

Set reminders and alerts
Like medicine intake reminders, doctors appointments or other.

Reminders and alerts are given in a certain format. You choose an 'event', with date, time and the number of times to repeat, together with a pictogram.
Manage users and authentication levels
Via the app the user of the system can add co-users and set their authentication levels (who sees what). This way family, caregivers, doctors or nurses can have access to the system, add reminders or get insight in sensor data.


Export sensor data
The sensor data from the different sensors is stored in the virtual alarm platform and can be exported to third party systems or directly in an export file. For example for a check up at the GP.

Localise and/or set boundaries
Through GPS, the watch and its wearer can be localised. It is also possible to set boundaries and trigger an alarm as soon as the watch and its wearer exceed the pre set boundaries.

Handle calls through the alarm centre app
A special alarm centre app is developed for healthcare professionals to take alarm calls from different watches (Care Watch pro) in nurse call mode.